Cambodia's Birding Quest

From Siem Reap, To Prek Toal, Tmatboey, - 8 Nights
Departing from:

Siem Reap,

Destination:

Prek Toal, Tmatboey,

Duration:

8 Nights

Offer:

Private tailormade tour with daily departures

Tour Operator:

Focus Asia

Reference Code:

FA-CMRT011E
From
US$1,997
Price per person
Package Details
Overview
Explore the wonders of the ancient Angkor Temples. Observe colonies of large water birds at Prek Toal. Enjoy a birdwatching trek in the jungle forest of Kbal Spean. Visit Cambodia's birdwatching paradise at Tmatboey Project.

Details
DAY 1 SIEM REAP (ARRIVAL)
After arriving in Siem Reap, transfer to hotel and check in.
In the afternoon, you will be picked up by TukTuk (Remork), Cambodia's truly unique public transportation. We travel to the earliest capitals in the Angkor area, the Roluos Temples. We begin with a visit to the brick temple of Lolei, originally set on an island in the centre of the Indratatakabaray (reservoir). We continue to PreahKo (sacred cow), named in honour of Shiva's mount, Nandin. Originally coated in stucco and painted, there is still some of the ancient plaster visible on the rear towers. Finally, we encounter Bakong, the earliest of the Temple Mountains, which later became the signature of Khmer kings. It is a giant pyramid, its cardinal points marked by giant elephants. For those that are interested, we can offer a short diversion to the small country town of Roluos, a world away from Siem Reap.
Overnight in SIEM REAP
DAY 2 SIEM REAP
Full day Visit to Angkor Wat by TukTuk. The crowning jewel of Khmer architecture, Angkor Wat is the national symbol and the highlight of any visit to Cambodia. The largest, best preserved, and most religiously significant of the Angkor temples. To approach the temple, first cross the vast moat, continuing along a broad causeway lined with naga balustrades. As you enter the main
building, ascend through a series of galleries and courtyard before reaching the central sanctuary, which offers beautiful views back over the causeway and across the surrounding countryside.
On the way, stop to enjoy the intricate stone carvings that adorn nearly every surface, with some 1,700 Apsaras, or celestial dancers, sculpted into the walls. Along the outer gallery walls run the longest continuous bas-relief in the world, which narrates stories from Hindu mythology, including the famous Churning of the Ocean of Milk. Angkor Thom: the fortified city of Angkor Thom covers an area of 10 square km. Enclosed by a wall and wide moats, the city includes many of Angkor's most popular sights. Enter by the monumental South gate over a causeway lined on either side by statues of demons and gods, each carrying a giant naga. Continue to the Terrace of the Elephants and the Terrace of the Leper Kings, former spaces for public ceremonies, both adorned with dramatic bas reliefs. Visit the ruined Baphuon, Royal Enclosure and Phimeanakas before continuing to the mysterious Bayon Temple. In this temple, one of the most popular and compelling in Angkor, explore the galleries of beautifully preserved bas reliefs and ascend narrow stairs to reach the central sanctuary, where you will find giant stone faces smiling enigmatically down at you from every angle. Ta Prohm is one of the most popular attractions of Angkor as much of the jungle has not been cleared and it looks very much as most of the Angkor monuments would have appeared when European explorers first stumbled across them.
(B) Overnight in SIEM REAP
DAY 3 SIEM REAP (Phnom Kulen National Park)
Early pick up at 05:30 am and journey onwards, 50 km northeast of Siem Reap, pass rural villages and countryside to reach the sacred mountain of Phnom Kulen. From the slopes of the mountains you will find a well-preserved area of ironwood forest full of wildlife. This area has a good variety of birds and excellent views of species such as Hainan Blue Fly catcher, Rufous-winged Buzzard, Black Baza, Red-breasted and maybe Blossom-headed and Alexandrine Parakeets. From here we will visit Kbal Spean, walking through protected forest to see the famous carved lingas in the streambed. These were carved in the 11th and 12th Centuries and stretch over several hundred meters of river, sanctifying it for the river's journey into the fertile lowlands and the Tonle Sap. There is also the opportunity to visit ACCB, the first nature conservation and endangered wildlife rescue and breeding centre in Cambodia. On our return to Siem Reap we take the time to visit the stunning Banteay Srei before returning you to the hotel around 17:00.
(B/L) Overnight in SIEM REAP
DAY 4 SIEM REAP – PREK TOAL
Enjoy free leisure time in the morning, you can discover Siem Reap's down town area on your own or enjoy the facilities of the hotel. You will be picked up at your hotel at 13:30, for transfer to Me Chrey Villag. Arrive at approximately 1400 and from here, hop on a boat to Prek Toal, a pristine biosphere on Tonle Sap Lake, and home to some of the most endangered birdlife on the planet. Prek Toal is a vast area of natural flooded forest that draws thousands of birds annually to breed during the dry season. This is one of the premier places in Southeast Asia to see rare birds such as storks, adjutants, pelicans and ibis. When we arrive at the Prek Toal Community, transfer to visit the Environmental Research Station and the Prek Toal Information Centre. Afterwards, we experience local life in the floating village. Learn about different fishing techniques and traditional water hyacinth weaving with a visit to Saray – the hyacinth platform. Enjoy dinner at the village while watching the sunset on the lake. Overnight at a local homestay in Prek Toal.
(B/L/D) Important note: Homestay in Prek Toal will be basic accommodation. Overnight in PREK TOAL
DAY 5 PREK TOAL – SIEM REAP
Enjoy a tranquil morning and spend some time bird watching on a small traditional wooden boat, gliding through flooded forest. Head back to Siem Reap after lunch. Free at leisure until we pick you up for the cultural Apsara show, followed by dinner. Enjoy the traditional Apsara Dance Show during a nice dinner served in a cozy welcoming atmosphere.                 (B/L/D) Overnight in SIEM REAP
DAY 6 SIEM REAP (STOUNG BENGAL FLORICAN CONSERVATION AREA AND TMATBOEY)
The stunning Tonle Sap grasslands support over half of the world's Bengal Floricans, and our guides have an exceptional track record of finding these Critically-Endangered, shy birds. Other birds we typically see include Sarus Crane, numerous stork species, Manchurian Reed Warbler, Pied and Eastern Marsh Harrier, Small Buttonquail, Blue throat and Red Avadavat. From here we travel to the Tmatboey eco-lodge, birding in dry forest along the way. We may get a chance at our second Critically-Endangered species this evening, as we try to see White-shouldered Ibisat
a roosting site. The night is spent in Tmatboey community run Eco- lodge with home-cooked Khmer cuisine or BBQ and a chance to relax deep in the Cambodian Countryside. (B/L/D) Overnight in SIEM REAP
DAY 7 SIEM REAP – TMATBOEY PROJECT
Tmatboey is a world-famous and award-winning site for some of the rarest bird species: Cambodia's national bird –the pre-historic Giant Ibis, as well as the White-shouldered Ibis. We have a 100% record of finding these unique species at this site where we've been partnering with the community and WCS Cambodia for 11 years on bird conservation! The birding is varied and excellent and our guides, with the help of the SVC-trained local guides, will also find day roosts of nocturnal species such as Spotted Wood Owl and Brown Fish Owl so you won't lose sleep over
seeing them. There are also 16 species of woodpecker including the Black-headed Woodpecker, the huge Great Slaty Wood pecker and the scarce Rufous-bellied Woodpecker. Plus the recently
recognized Indian Spotted Eagle, White-rumped Pygmy Falcon, Collared Falconet, Rufouswinged Buzzard, Indochinese Bushlark, and many more…
(B/L/D) Overnight in Siem Reap
DAY 8 SIEM REAP – TMATBOEY PROJECT
The morning is spent birding or just relaxing at the onsite hide spotting forest gems, before returning to Siem Reap.
(B) Overnight in Siem Reap
DAY 9 SIEM REAP – DEPARTURE
Free at leisure until transfer to the airport for departure flight to next destination.
(B)
This tailormade tour allows you to extend your stay in any destination visited. Contact Guidepost Tours for details.
Inclusions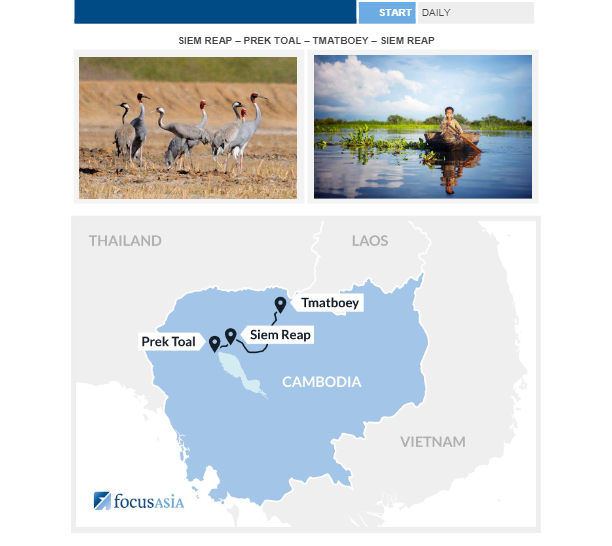 INCLUDED SERVICES
All described sightseeing as in program above
Transportation in private air-conditioned vehicle
Accommodation in hotels with daily breakfast
English-speaking local guides
Admission fees to indicated sights
Meals mentioned in the itinerary (B=breakfast, L=lunch, D=dinner)
Domestic gov't tax and service charge
EXCLUDED SERVICES
International air tickets
Flights & visa fees
Travel Insurance in all kinds
Meals not mentioned in itinerary
Compulsory Meals
Drinks during Meals
Tip, drinks, any personal expenses
Early check-in and late check-out
Travel Enquiry