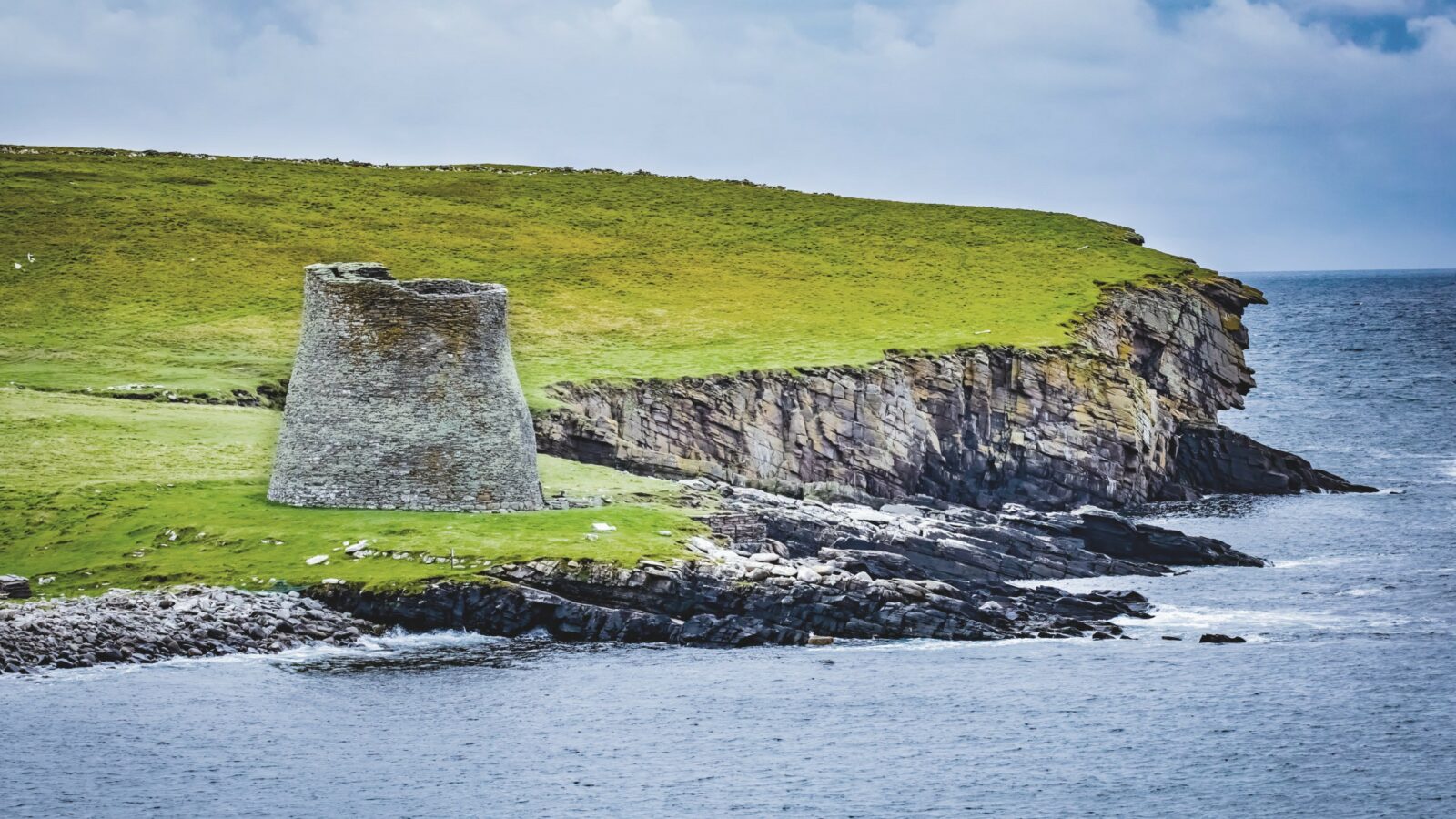 Ireland and Scotland Discovery Cruise

From Dublin To Skellig Islands, Inishmore, Connemara, Mullaghmore, Malin Head, Giant's Causeway, Argyll Coast & Islands, Iona & Staffa, St Kilda, Papa Westray, Kirkwall, Shetland Islands, Lerwick, Isle of Noss, Mousa, Fair Isle, Aberdeen - 16 Nights
Departing from:

Dublin

Destination:

Skellig Islands, Inishmore, Connemara, Mullaghmore, Malin Head, Giant's Causeway, Argyll Coast & Islands, Iona & Staffa, St Kilda, Papa Westray, Kirkwall, Shetland Islands, Lerwick, Isle of Noss, Mousa, Fair Isle, Aberdeen

Duration:

16 Nights

Offer:

up to 25% discount

Travel Dates:

17/05/23 to 02/06/23

Offer Expires:

17/05/23

Tour Operator:

Aurora Expeditions,Cruise Traveller

Reference Code:

Aurora
From
AU$16,121
Price per person
Package Details
Overview
Explore the rugged west coast of Ireland, journey through hundreds of islands and enchanting peninsulas. See some of the highest cliffs in Europe and discover unique flora and fauna. Blessed with fine weather, we ship cruise around The Skellig Islands that includes a 6th century beehive hut monastery – a UNESCO World Heritage Site, and a large colony of puffins and gannets. In Scotland's equally wild and wind-ravaged west coast, we marvel at striking basalt columns at Fingal's Cave, learn about the country's Christian origins at Iona Island, revel in remarkable archaeological treasures and encounter some of the largest breeding colonies of northern gannets in the world.
Details
In the west coast of Scotland, sail through the Argyll Coast and Islands, a Mission Blue Hope Spot

 

Discover an abundance of UNESCO World Heritage sites of both natural and cultural significance

 

Hike among some of the most spectacular coastal scenery in Europe

 

Hope to encounter one of the world's largest colonies of breeding gannets at Bass Rock

 
Day 1 Arrive in Dublin
Having made your way to Dublin, you will be met by a representative of Aurora Expeditions and transferred to our group hotel. Upon arrival, you will be provided with cabin Aurora Expeditions luggage tags. Please clearly label the tags with your name and ship cabin number. Enjoy free time, and this evening, dine at your leisure (dinner not included).
Accommodation: The Alex Hotel (or similar)
Day 2 Embarkation Day
This morning, after breakfast, please take your luggage, clearly labelled with your name and cabin number, down to the hotel lobby and check-out. Your luggage will be collected and transferred directly to the port for clearance and delivered to your cabin. Please ensure you keep your identification and items required throughout the day in your day pack.
Enjoy an excursion of Dublin before transferring to the port to board the Sylvia Earle in the late afternoon. After embarkation, settle into your cabin before attending mandatory safety briefings and enjoy the thrill of departure as we 'throw the lines' and set sail.
This evening, get to know your fellow expeditioners and your friendly expedition team and crew at the Captain's Welcome Dinner to celebrate the start of a thrilling adventure.
Day 3 At Sea
As we sail south along the east coast of Ireland, our series of onboard lectures begins with informative and entertaining talks from our team of experts, who will share their knowledge of the culture, history and nature of the places you will be visiting. Take the opportunity to discover our state-of-the-art vessel; explore the science centre and lounge, borrow a book from the library or keep active in the gym.
Day 4 Skellig Islands
Off the coast of County Kerry, two rocky pinnacles rise from the Atlantic Ocean. The spectacular Skellig Islands are world-renowned for their ornithological and archaeological significance. Skellig Michael is known throughout the world of archaeology as the site of a well-preserved monastic outpost of the Early Christian period – now designated a UNESCO World Heritage Site. Little Skellig is equally renowned in matters of ornithology as the home of roughly 27,000 pairs of gannets – the second largest colony of such seabirds in the world.
Approximately 1,400 years ago a small group of men were searching for a place to practice their religion in complete solitude and isolation. These remarkable men ventured into the open ocean off southwest Ireland determined to build a monastery on one of the most extraordinarily remote locations on earth. Generation after generation of monks helped to hand-carve the 600 stone step with the simplest tools, to build a hilltop monastery 200 m (656 ft) above the pounding waves. The monastery has six corbel stone beehive huts and two boat-shaped oratories. The survival of the terraces and drystone walls to this day are testament to the skill and dedication of the monks. The monastery is inscribed as a UNESCO World Heritage Site, a striking example of Early Christian architecture. The archaeological remains show the dramatically spartan conditions in which the monks lived, and after enduring several Viking raids, the monks eventually left the island in the 13th century. The site has subsequently become a place of Christian pilgrimage.
The Office of Public Works (OPW) manages the Skelligs, and they no longer allow cruise ships to land on Skellig Michael. Visitor numbers to Skellig Michael in recent years have reached the maximum permitted by UNESCO and any violation of UNESCO criteria will affect the future UNESCO status of the island. From the comfort, safety and elevated height of our vessel, we will enjoy a ship cruise around both Little Skellig to get a glimpse of the incredible gannet colony, and the UNESCO World Heritage listed monastery on Skellig Michael, with onboard commentary about the islands from a local expert.
After lunch and a rest, enjoy a late-afternoon hike on Bere Island, with features over 220 kilometres of trails. Bere island features sites with rich military heritage, as well as spectacular breathtaking scenery across to Slieve Miskish and Caha Mountains.
Day 5 Inishmore
The largest of the Aran Islands, Inishmore has attracted visitors to its rugged shores for generations. The island is home to over 50 different monuments of Christian, pre-Christian and Celtic mythological heritage. The geology is an extension of the famous limestone rocks of The Burren, where limestone pavements crisscrossed with grikes, host a plethora of, often extremely rare, wildflowers such as gentian violets and orchids. The landscape of Inishmore is a patchwork of fields hemmed in by precariously balanced drystone walls.
An exploration of Inishmore includes a visit to the island's most celebrated monument, Dún Aonghusa. Occupying a site of 14 acres, Dún Aonghusa is a fort that consists of three terraced walls surrounding an inner enclosure containing a platform on the edge of a 100-m (300-ft) high cliff. The views of the Atlantic Ocean and the surrounding areas from Dún Aonghusa are breathtakingly spectacular. Excavations carried out in the 1990s indicated that people had been living at the hilltop from c.1500 BC with the first walls and dwelling houses being erected round 1100 BC. A remarkable network of defensive stones known as a Chevaux de Frise surround the whole structure.
Late Bronze Age objects such as rings, tools, beads and foodstuffs found on site are now in Dublin's National Museum. Archaeologists and scholars from all over the world visit the site annually, and some scholars suggest that the platform overlooking the Atlantic Ocean may have had ritual significance. The Dún Aonghusa Visitor Centre is located on the edge of Kilmurvey Craft Village and provides a wealth of information about Dún Aonghusa, the cliffs, and the Aran Islands in general. It has a number of exhibits and educational materials which are set out in a simple way affording visitors a good understanding of Dun Aonghasa prior to entering the site itself.
At Kilronan village, enjoy free time to explore the local shops and perhaps pick up some local mementos.
Days 6-7 Connemara
Dubbed a place of "savage beauty" by Oscar Wilde the Connemara lets you experience authentic Ireland. Connemara is Irish landscape at its most dramatic. With soaring mountains, scattered loughs and an intricate coastline, this remote part of Galway offers superb hiking.
Carved by glaciers, Killary Harbour has been described as Ireland´s only true fjord. It forms the border between Galway and Mayo counties and features some of the most spectacular scenery on the west coast. This deep-water inlet from the Atlantic was once a hiding place for U-boats in World War Two. The sheltered fjord is also a real treat for birdwatching, with nationally important populations of many species, including ringed plover, mute swan, whooper swan, mallard duck, tufted duck, and barnacle goose. Dolphins are often seen in the fjord, along with otters, a protected species that are known to breed at Killary Harbour. From Rosroe pier, a number of walks are possible including the Killary Harbour Coastal Walk.
Hiking at Connemara National Park
Diamond Hill Loop Walk (7 km / 4.3 mi). Grading: Difficult
Your starting point is the visitor centre at the Connemara National Park. There are gravel footpaths and wooden boardwalks on the approach to the mountains, with a steady climb up the western slopes to the summit ridge. The trail offers blanket bog ecology, extensive heather, stunning views of the mountains, Inishturk, Inishbofin and Inishshark islands and coastline and the possibility of wildlife.
To the north and east, the Twelve Bens are nothing short of sensational. To the northeast, Kylemore Abbey's gothic turrets stand out from neighbouring Kylemore Lough; and directly north, the summit of Mweelrea, Connaught's highest mountain, can be seen peeping out. There are some steep sections that require the use of hands. Terrain includes stone steps, trail, and surfaced minor road. It can be quite windy on top so bring appropriate clothing.
For those after an easier and shorter hike, the Lower Diamond Hill trail is an excellent option. It's a 3 km (1.9 mi) hike that takes 1.0 -1.5 hours. The walk offers some fantastic views of the surrounding Connemara countryside, coastline and islands. Two other shorter walks starting from the visitor centre are also available if you're after easier options.
Clare Island
Clare Island is a mountainous island guarding the entrance to Clew Bay in County Mayo. It is famous as the home of the pirate queen Grace O'Malley (Granuaile), who was known as a tyrant of the ocean, clan chieftain, mother, wife, survivor and brilliant politician. Although her deeds, relatively unknown outside of Ireland, the legacy of her mastery survives in the ruined monuments and the folk-consciousness on Clare Island and Ireland.
Clare is the largest and highest of Clew Bay's many islands, with dramatic coastal cliffs and spectacular views of one of Ireland's best-known peaks, Croagh Patrick. Its spectacular cliffs are home to large numbers of nesting seabirds and its hills, bogs and woodlands make it ideal for walks.
Day 8 Mullaghmore
Jutting out of Sligo's northern edge, the small peninsula of Mullaghmore sits dramatically out into the North Atlantic. Land and sea meet in dramatic confluence along the coast of County Sligo, a dazzling landscape of jagged mountain peaks that inspired the work of Nobel-winning poet William Butler Yeats. Mullaghmore resides in the shadows of iconic Benbulben mountain, undoubtedly Ireland's most distinctive mountain, sometimes referred to as Ireland's own Table Mountain. The most distinctive peak among the Dartry range, it was formed during the ice age by massive glaciers segmenting the landscape.
On the Benbulben Forest Walk (1.5 hours, suitable for all ages and abilities), the trail begins in a secluded forest area before opening out to stunning views of Benbulben head. Further along the walk offers superb panoramic views of Donegal Bay, Slieve League Cliffs, Mullaghmore and Classiebawn Castle. And, of course, Yeats himself is buried 'Under bare Ben Bulben's head,' as he predicted in one of his poems. His grave can be found in Drumcliff cemetery, not far from the foot of the mountain. The mountain's most noted reference in Yeats's poetry is in the work Under Ben Bulben, in which he describes horsemen who 'ride the wintry dawn/where Ben Bulben sets the scene.'
Alternatively, choose the Mullaghmore Head Walk (2.5 hours, suitable for all ages and abilities). This is an easy walk along the stunning coastline of Mullaghmore which consists of a mixture of footpaths, off-road walking trails and public roads, which offer stunning panoramic views of Donegal Bay and Slieve League beyond, as well as of Benbulben and the Dartry Mountains.
Mullaghmore village, is largely the vision of Henry John Temple, better known as Lord Palmerston, who served two terms in office as British Prime Minister. He inherited a large estate of 10,000 acres in north Sligo, and not only instigated the building of Classiebawn Castle, the dominant landmark of the area, but also the magnificent stone harbour and the main buildings that characterise the village today.
After your morning of hiking, return to the ship for lunch and rest. Late afternoon, we hope to enjoy a walk in a magical setting near Sligo town, where we step out of the modern world, into a peaceful, green and natural land that feels a million miles away. Tall walls of mossy rock trickling with water surround you, while an array of trees, shrubs, and ferns creep up from the ground. The sounds from the world outside are silenced, leaving you alone in this fairy tale wonderland.
Day 9 Malin Head and Giant's Causeway
Ireland is blessed with impressive natural scenery: vast valleys, glittering lakes, and cliffs hoisted up from the Atlantic. The jewel in the crown of Donegal is the Inishowen Peninsula. At the peninsula's tip is Malin Head, Ireland's most northerly point. Soak in the dramatic scenery and see for yourself why Malin Head was chosen as a filming location for the Star Wars movie The Last Jedi.
In the afternoon, we visit Northern Ireland's most famous natural attractions, the Giant's Causeway. Listed as a UNESCO World Heritage site, the Giant's Causeway consists of some 40,000 interlocking basalt columns to create what looks like a giant pathway of stepping-stones that start on land and disappear into the ocean.
Day 10 Argyll Coast and Islands
Crossing the North Channel into Scotland, we sail north to the Argyll Coast and Islands, recognised as a Mission Blue Hope Spot, the first one in mainland UK. Sail among dramatic landscapes of rolling green hills, where stone castles overlook the sea that conceal shipwrecks from the Spanish Armada to WWII losses. There is an abundance of marine biodiversity within the waters of the Argyll Coast and Islands. The region is home to dolphins, whales, seals, otters and birds. The Loch Sunart to the Sound of Jura Marine Protected Area was created in 2014 to protect the area's deep, glacier-carved seabed troughs and a critically endangered species – the flapper skate, the largest of all the world's skates.
Day 11 Iona and Staff
The tiny island of Iona is barely 5 kilometres (3 miles) long. It is renowned as the birthplace of Christianity in Britain and is also a burial ground of early Scottish Kings. The Irish monk, St Columba, and twelve disciples landed here and founded a monastery in 563 CE. From this base, St Columba set about converting Scotland and much of Northern England to Christianity. We plan to visit the Abbey and see the cloisters, graveyard (burial site of numerous early Scottish, Irish and French kings) as well as seeing the impressive collection of over 180 medieval carved stones and crosses.
In the afternoon, on Staffa, we hope to have the chance to explore Fingals Cave, where the melodious sound of waves crashing against towering basalt pillars inspired Mendelssohnns Hebridean Overture. We may enter the cave in Zodiacs, or clamber ashore to walk into the mouth of the cave. On shore we will also find Puffins in abundance.
Day 12 St Kilda
Located in the Outer Hebrides, we plan to land at the isolated and storm-battered archipelago of St Kilda, a World Heritage site, where derelict crofts bear testament to the fortitude of islanders who once tended the unique Soay sheep and harvested seabirds for food—and to pay their rent in the form of wool, meat and feathers. The isles hold Europe's most important seabird colony and is home to Britain's highest sea stacks (rock columns). Island hopping north-east, we aim to visit tiny specks of land that bear the brunt of violent Atlantic storms and rarely see visitors.
Day 13 Papa Westray, Fair Isle
On Papa Westray, you can choose to visit the 5,500-year-old Knap of Howar, a Neolithic farm building that claims to be the oldest standing house in Europe and the 12th century St Boniface Kirk. Alternatively, enjoy a walk at North Hill reserve in the north of the island. The reserve is home to Arctic terns and skuas and the extremely rare Scottish primrose. In the early evening meet at the Papay Pub for a drink with the locals.
Midway between Orkney and Shetland, Fair Isle houses a major European ornithological research station and is also famous for knitwear and historical shipwrecks. About five kilometres by three kilometres (three miles by two miles), Fair Isle is surrounded by impressive cliffs. The 70 or so islanders mainly live in traditional crofts on the more fertile low-lying southern part of the island.
A birdwatcher's paradise, Fair Isle lies on the intersection of major flight paths from Scandinavia, Iceland and Faroe. In summer, the cliffs teem with breeding fulmars, kittiwakes, guillemots, gannets, shags and puffins. The isle is an excellent place to view seabirds, especially puffins, at close range. Fair Isle also has over 250 species of flowering plants, including wetland flowers, rare orchids, alpine species and common wildflowers. We will be welcomed by the hospitable villagers and may take a hike or visit the museum. Grey and common seals inhabit the waters around Fair Isle, and sharp eyes may spot harbour porpoises, white-beaked dolphins, Atlantic white-sided dolphins, orcas and minke whales.
Day 14 Isle of Noss, Lerwick, Mousa
In the Shetland Islands, we enjoy a ship cruise at the Isle of Noss, a National Nature Reserve and Special Protection Area that offers breathtaking coastal scenery of sandstone cliffs where thousands of seabirds come to nest. We come alongside at the port of Lerwick on Mainland, the largest of the Shetland Islands, and explore the old town on a walking tour. On the south of Mainland, we plan to visit the historic lighthouse at Sumburgh Head. The storm-ravaged cliffs attract a large number of seabirds, and puffins can often be found among the grassy slopes that are adorned with wildflowers.
We then visit Mousa Broch (a fortified Iron Age tower), located on the small uninhabited island of Mousa. The fortification is the best preserved of Scotland's 570 brochs, and one of the best-preserved prehistoric buildings in Europe. Storm-petrels nest among its stones, which can be seen when visiting the broch at night. In daylight, a large colony of common and grey seals basks on its shores where you might also spot otter.
Day 15 Kirkwall
Discover the rich history in Kirkwall, capital of the Orkney Islands. Initial impressions are misleading, as the harbour area looks modern, but the narrow winding streets and lanes of the old town, which have remained relatively unchanged over the centuries are appealing.
Explore magnificent St Magnus Cathedral built from red and white sandstone and considered the finest medieval building in the north of Scotland before popping across the road to Tankerness House and Gardens, a restored 16th century former manse, now housing the Orkney Museum featuring archaeological artefacts from Neolithic times to the Vikings. The exhibition is a great way to whet your appetite for the archaeological gems you will find on the mainland including the unique and well-preserved 5,000-year-old semi-subterranean village of Skara Brae.
Everything west of Kirkwall is known as West Mainland, an area of rich farmland, rolling hills and moorland, with dramatic cliffs along the Atlantic coastline. Some of the main archaeological attractions we may see include the standing Stones of Stenness, the Ring of Brodgar, and the chambered tombs of Maes Howes that to this day still have unresolved mysteries.
One of the mainland's main attractions is Skara Brae, the best-preserved Stone-Age village in northern Europe, located in the spectacular white sands of the Bay of Skaill. Revealed in 1850 after a storm below away the dunes, the site dates from approximately 5,000 years ago and was occupied for about 600 years, affording visitors a unique picture of the lifestyle of the original inhabitants.
Day 16 Bass Rock
Gannets are a dazzling-looking seabird. With the distinctive blush on its head and neck, black-rimmed blue eyes and beak and white plumage with black-tinged tips, it is one of the most elegant-looking seabirds in the world. On the small, uninhabited volcanic rock of Bass Rock, you can find an enormous population of northern gannets – more than 150,000 individuals, making it the largest colony of this creature in the world. Be prepared to be enthralled by the unforgettable sight and sound of thousands of these stunning creatures in flight.
Day 17 Disembark in Aberdeen
Early morning, we cruise into Aberdeen, where you will be free to disembark at approximately 8.00 am. Farewell your Expedition Team and fellow passengers as we all continue our onward journeys. Transfer to Aberdeen airport or to your centrally located hotel.
Inclusions
Inclusions:
All airport transfers mentioned in the itinerary.
One night's hotel accommodation including breakfast, in Dublin on Day 1.
Day tour of Dublin on Day 2, prior to embarkation.
Onboard accommodation during voyage, including daily cabin service.
All meals, snacks, tea and coffee during voyage.
Beer, house wine and soft drinks with dinner.
Captain's Welcome and Farewell receptions including four-course dinner, house cocktails, house beer and wine, non-alcoholic beverages.
All shore excursions and Zodiac cruises.
Educational lectures and guiding services provided by Expedition Team.
Complimentary access to onboard expedition doctor and medical clinic (initial consultation).
One 3-in-1 waterproof, polar expedition jacket.
Complimentary use of Muck Boots during the voyage.
Comprehensive pre-departure information.
Port surcharges, permits and landing fees.
Gratuities for ship's crew.
Exclusions:
International or domestic flights – unless specified in the itinerary.
Transfers – unless specified in the itinerary.
Airport arrival or departure taxes.
Passport, visa, reciprocity and vaccination fees and charges.
Travel insurance or emergency evacuation charges.
Hotel accommodation and meals – unless specified in the itinerary.
Optional excursions and optional activity surcharges.
All items of a personal nature, including but not limited to alcoholic beverages and soft drinks (outside of dinner service), laundry services, personal clothing, medical expenses, wi-fi, email or phone charges.
Travel Enquiry