Java Classic Tour

From Jakarta To Bandung, Wonosobo, Dieng Plateau, Borobudur, Yogyakarta, Kediri, Mt. Bromo ,Surabaya - 7 Nights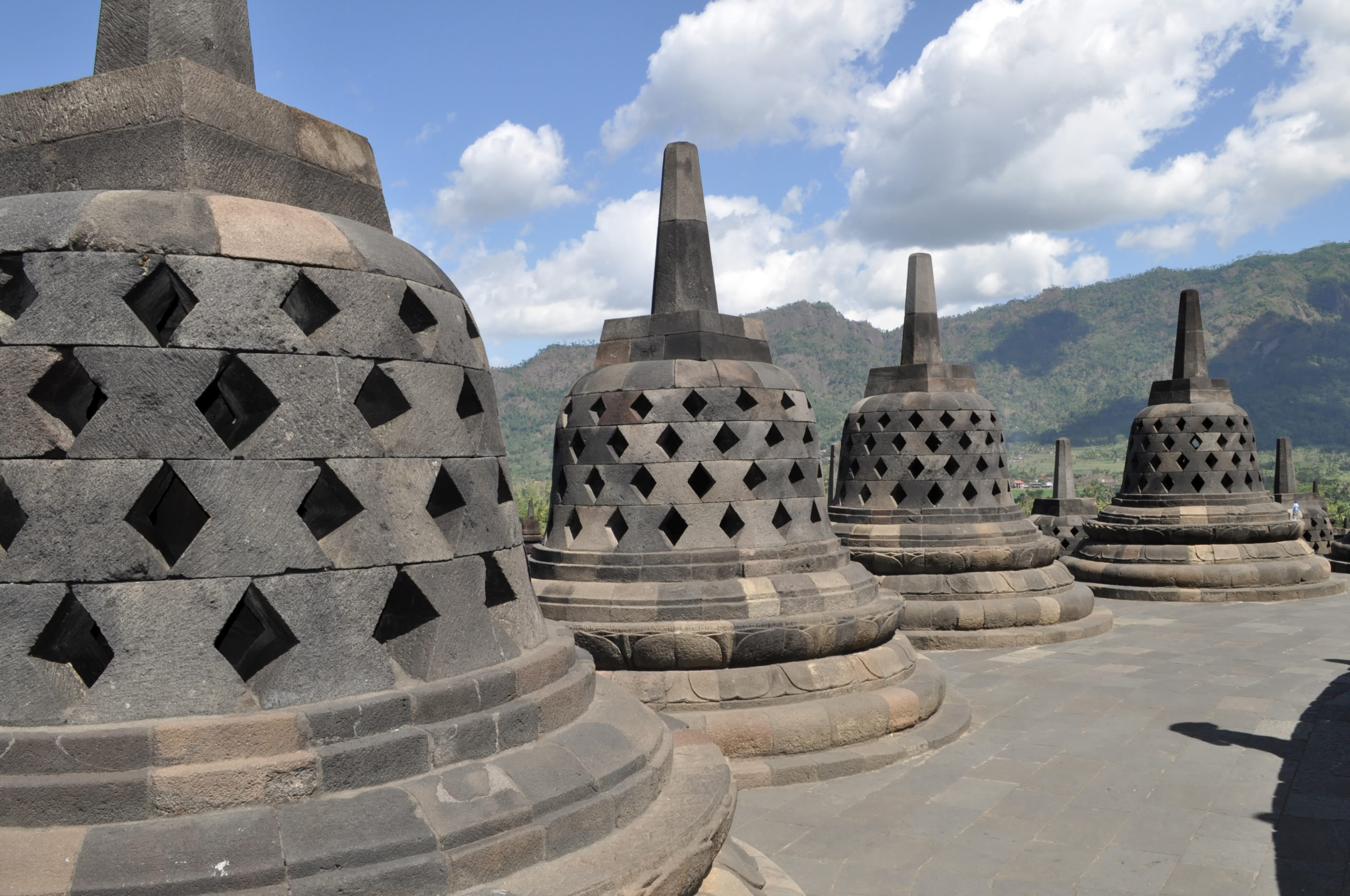 Departing from:

Jakarta

Destination:

Bandung, Wonosobo, Dieng Plateau, Borobudur, Yogyakarta, Kediri, Mt. Bromo ,Surabaya

Duration:

7 Nights

Tour Operator:

Asian Trails

Reference Code:

AT-Java Classic
From
AU$2,150
Price per person
Package Details
Overview
Spend eight days touring Java, starting with a quick visit to Jakarta, before departing this buzzing metropolis for the cool mountain air of Bandung. We soak up the spectacular scenery of rice paddies along the road to Wonosobo, where the great mountains of Galunggung and Sawal break up the horizon. An immersion in Yogyakarta at the centre of the island offers an abundance of culture. We also marvel at the mighty Borobudur Temple which has a UNESCO World Heritage status and also watch the sunrise from Mount Bromo. Throughout this adventure we travel by road, train and even hop on a becak (cycle rickshaw) to experience the charm of Kediri up close and personal.
Details
Day 1 | Jakarta – Bandung [L]
Escape to tranquillity of the Bogor Botanical Gardens and the Puncak Tea Plantation, ahead of travelling to Bandung. We are collected from the airport, or from our Jakarta hotel to visit the botanical gardens, the largest in Indonesia, which was founded in 1817. This attractive site contains streams, lotus ponds, a collection of magnificent palms and an orchid house, with over 3,000 varieties.
Afterwards we depart for Bandung and drive along the Puncak Pass, some 1,600 metres above sea level, passing tea plantations and rice paddies and breaking the journey at the Puncak Tea Plantation, which dates back to the Dutch colonial era.
Lunch is served at a local restaurant. Dinner is to your own account.
Please note: Due to heavy traffic from Jakarta to Bandung, via Bogor (from Friday to Sunday at around 3 pm) we will travel on the highway instead and omit the visit to the Puncak Pass.
Overnight in Bandung
Day 2 | Bandung [B]
Get up close to a volcano and feel the heat of the Ciater Hot Springs on this exciting adventure. We drive through the Lembang hills to Mount Tangkuban Perahu, an active volcano with a distinctive looking crater that looks like an unturned boat.
This is the only crater in Indonesia where you can drive right up to the rim. It has also played a major role in the development of the surrounding landscape. Its eruption contributed to the formation and fertility of the land north of Bandung because its flow of lava carried huge boulders into the valleys and these formed huge waterfall cliffs that facilitated the formation of the lake that covers the Bandung Plain.
We also visit the Ciater Hot Springs which are heated by nearby volcanoes. We then visit Padasuka village where we enjoy a traditional Angklung (bamboo musical instrument) performance.
Lunch and dinner are to your own account.
Overnight in Bandung
Day 3 | Bandung – Kutoarjo (by Train) – Wonosobo [B,L]
Today we travel to Wonosobo by both rail and road, with a journey time of about seven to eight hours. In the morning we transfer to the station to board the train to Kutoarjo and on arrival in this destination, we continue overland to Wonosobo.
A lunch box is served on-board. Dinner is to your own account.
Overnight in Wonosobo
Day 4 | Wonosobo – Dieng Plateau – Borobudur – Yogyakarta [B]
Reach the dizzying heights of the Dieng Plateau, spot the colours of the rainbow at Telaga Warna and marvel at Borobudur, the world's largest Buddhist monument. First we drive for about four hours to the Dieng Plateau to visit the oldest Hindu temple complex, which spans the highland plain at 2,093 metres above sea level.
Next, we continue to Telaga Warna, the 'colourful lake,' which has changing green, yellow, blue or yellow hues from the fizzing sulphur deposits that alternate the colours. We continue to the Sikidang Crater which has steaming vents and frantically bubbling mud ponds.
Our day concludes the Borobudur Temple complex, which for centuries lay forgotten and buried underneath layers of volcanic ash. Today, we can explore this wondrous UNESCO listed site.
After our exploration, we return to our Yogyakarta hotel.
Lunch and dinner are to your own account.
Overnight in Yogyakarta
Day 5 | Yogyakarta City Tour – Prambanan Tour [B]
Gain an insight into Yogyakarta's rich history on this fascinating tour of Indonesia's cultural beating heart. We start at the Kraton which is a prime example of traditional Javanese palace architecture and the seat of the reigning Sultan of Yogyakarta and his family. Over 25,000 people live within the greater Kraton compound of the Tamansari, which houses a market, shops, cottage industries, schools and mosques.
Please note: The Sultan's Palace opens every day from 8.30 am to 13.30 pm, but closes on Friday at 11 am and it is closed all day on Mondays, National and Kraton Holidays
Next we proceed to Kota Gede, the hub of the city's silver industry where we visit a busy silversmith's workshops. In the afternoon, we visit the mighty Pramabanan Temple, which consists of three major temples: Candi Shiva Mahadeva, Candi Brahma and Candi Vishnu.
Lunch and dinner are to your own account.
Overnight in Yogyakarta
Day 6 | Yogyakarta – Jombang (by Train) – Kediri [B,L]
Explore the charm of Kediri on-board a becak (cycle rickshaw). Today we transfer to Yogyakarta Train Station to board the 7.30 am train to Jombang, travelling in the executive class.
Upon arrival, we transfer to Kediri to tour the city on-board a becak, visiting the old church near the town centre which dates back to the early 19th century. This impressive structure features a unique roof that reflects northern Sumatra's Batak style houses. The total tour duration is eight to nine hours.
A lunch box is served on the train. Dinner is to your own account.
Overnight in Kediri
Day 7 | Kediri – Bromo [B,L]
Our drive to Mount Bromo stops at Pasuruan to view its colourful fishing village and salt refinery.
Afterwards, we continue to Cemoro Lawang village, arriving in the late afternoon where we spend the night.
Lunch is at local restaurant. Dinner is to your own account.
Overnight in Bromo
Day 8 | Bromo – Surabaya [B]
Watch the sun rise over majestic Bromo, Batok and Semeru volcanoes on this inspirational excursion. We depart at around 4 am for Penanjakan in a four-wheel drive vehicle and witness this natural spectacle (weather permitting) from a platform and then climb the stairs up Mount Bromo for a sublime view that will leave lasting memories.
After our descent we return to our hotel for breakfast and have free time until we check-out, or transfer to the airport for our onwards flight. Lunch and dinner are to your own account.
Please note: The walk up Mount Bromo is not suitable for those with walking difficulties. It is possible to ride horseback (surcharge applies), although this is not recommended due to the bad treatment of the horses. The ideal time to visit this destination is during the dry season, from April to November. Throughout the year, the mountain night temperatures are around 2-5 °C. Due to the popularity of Bromo Tengger National Park, the platform at Mount Penanjakan can get busy during weekends and on public holidays.
Inclusions
Inclusions
Free Wi-Fi During transfer & Tours
Tours and transfers with licenced English-speaking guiding services / assistance. Other languages are on request and are subject to availability;
Accommodation in sharing twin / double with air-conditioning
Transportation for tour and transfers by air-conditioned vehicle, unless otherwise stated;
Free refillable bottle water (USD 1 of each bottle will be donated to a local water project or plastic eradication project)
Train ticket from Yogyakarta to Jombang / Mojokerto
4 wheel drive during Bromo sunrise tour
All entrance fees for visits as mentioned in the program;
All applicable taxes and service charges;
All meals as indicated in the program (food only)
Exclusions
Personal expenses such as other meals, drinks, tips and gratuities, shopping, portage fees and optional tours/ visits, unless otherwise stated;
Hotel accommodation in the destination of commencement;
Any domestic / international airline tickets, airport taxes, visa fees, specific camera / video fees, additional transportation cost from and to the general pick-up / drop-off regions (such as airports, out-of-town resorts, ports, harbours and accommodation in surrounding towns);
Any accommodation expenses of a personal nature. This includes (compulsory festive) meals and drinks, mini-bar consumption, laundry, room service, any telephone or other communication cost not mentioned in the program;
International travel and medical insurance coverage for customers.
Voluntary carbon emission compensation USD 1.50 per person per day
Travel Enquiry