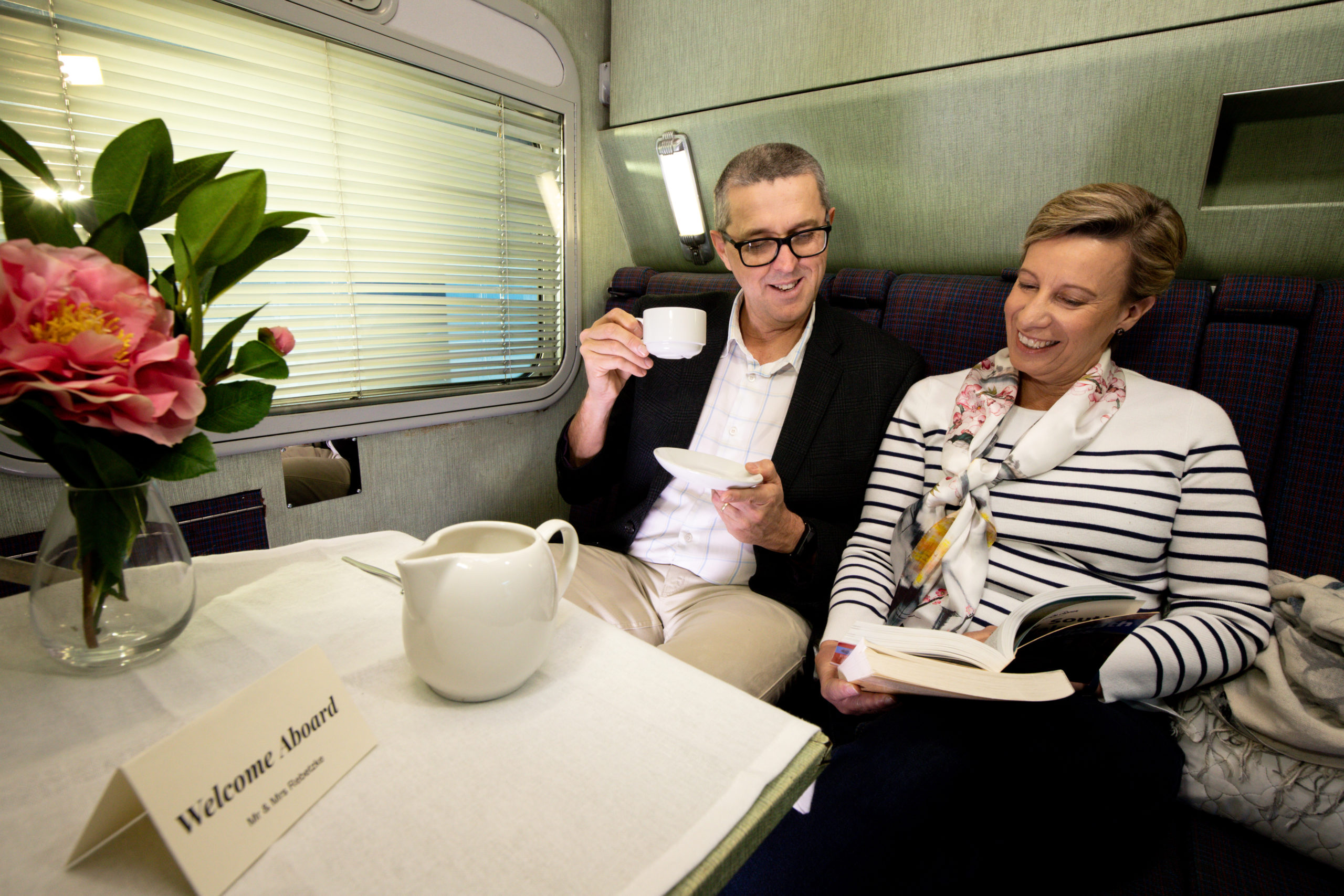 North Coast Rail Tour NSW

From Sydney To Hunter Valley, Port Macquarie, Coffs Harbour, Kempsey, Byron Bay, Casino, - 4 Nights
Departing from:

Sydney

Destination:

Hunter Valley, Port Macquarie, Coffs Harbour, Kempsey, Byron Bay, Casino,

Duration:

4 Nights

Offer:

No single surcharge

Travel Dates:

01/01/70 to 01/01/70

Offer Expires:

27/10/22

Tour Operator:

Vintage Rail Journeys

Reference Code:

VRJ-NC
AU$4,250
Price per person
Package Details
Overview
This exceptional 5 day, 4 night North Coast Rail Tour takes you along the scenic North Coast Line through the Central Coast, the Mid-North Coast and Northern Rivers regions of New South Wales. You'll discover the beautiful Hastings River at Port Macquarie, the breathtaking hinterland rainforest and eclectic community of Byron Bay, the crystal clear creeks and uncrowded surf beaches of the Macleay Valley Coast, and the history and heritage of Maitland & Morpeth. Contact Guidepost Rail Journeys for reservations.
Details
Day 1 | Sunday: Sydney – Port Macquarie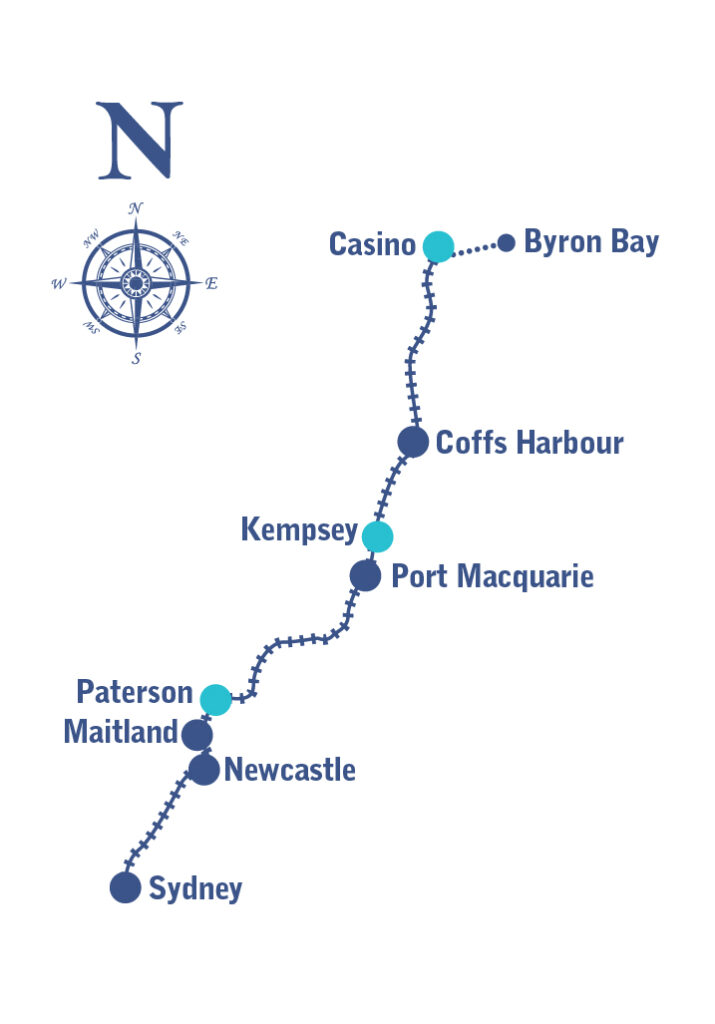 Your North Coast Rail Tour adventure starts at Central Station, Sydney. Welcome aboard the Aurora Australis where you can choose to sit in the lounge or dining cars, or your private cabin. Today we'll spend all day on the train. We'll travel over the spectacular Hawkesbury River, alongside Mullet Creek and through the 'Venice of Australia' to Brisbane Water. We skirt around Newcastle and on to Maitland in the Hunter Valley, where we turn right to join the meandering North Coast Line.
At Gloucester, the North Coast Line starts to follow the Gloucester River, continuing the enjoyment of travelling beside the water. The Gloucester River joins the Manning River and we follow it through Taree and on to Wauchope on the Hastings River, the closest station to Port Macquarie.
We'll arrive just in time for dinner, served on board in the dining carriages.
Subject to change due to circumstances beyond our control.
Day 2 | Monday: Port Macquarie – Casino
Enjoy breakfast on-board the Aurora Australis before boarding coaches to explore Port Macquarie.
We'll take a scenic lunch cruise of the tranquil waters of Port Macquarie, with the possibility of seeing dolphins, turtles, osprey and sea eagles. Enjoy the tranquil rural landscapes and abundant wildlife of the Hastings River.
We'll return to the train after lunch, as we continue down the North Coast Line. We will be travelling for around five hours through some interesting landscapes. We will be inland for a while before turning to the coast again and travelling along the water, past Sawtell and through Coffs Harbour. We then turn inland again, arriving at Casino just in time for dinner served in the dining carriages on-board the train.
We plan to stable for the night at Old Casino Railway Station which is the start of the Casino to Murwillumbah line. It ceased to operate in May 2004, and was formally closed in September 2020 to facilitate the construction of a rail trail.
Day 3 | Tuesday: Byron Bay – Kempsey
Enjoy breakfast on board the Aurora Australis at Old Casino Railway Station. You will then board our 'Aurora Explorer' coaches to take you to Byron Bay, a place known for its natural attractions and eclectic community.
While at Byron Bay, you have the option of visiting Zentveld's Coffee Plantation and Roastery which will see you walking through the plantation and seeing the coffee being grown, watching as the team roast the beans and taste testing their Australian coffee creations. You'll also visit Duck Creek Macadamia Nuts, who have built a reputation as a producer of Australia's finest macadamia products. Alternatively, visit Cape Byron Lighthouse and Maritime Museum.
You will then ride the Byron Bay Solar Train, the world's first solar train, from North Beach into Byron Bay. Lunch today is at your own choice and cost.
Your 'Aurora Explorer' buses will return you to Casino Railway Station and we will then travel south to Kempsey Railway Yard where we will be stabling for the night.
Dinner will be served on-board the train this evening.
Day 4 | Wednesday: Kempsey – Paterson
After enjoying breakfast, we will board coaches to enjoy a scenic drive to the Arakoon National Park and the South West Rocks area. National Parks in this region have the best vantage points to see whales during their annual migration (from May to November). Guests will walk through the Trial Bay Gaol, an open air museum which captures the history of the area.
Alternatively, visit the Kempsey Museum, where you can experience Aboriginal history, boot making, timber industry, military history, natural history, dairy industry, shipping, historical vehicles to name just a few subjects touched on in the collections, displays and historical artefacts. You can also spend time in the Dunghutti-Ngaku Aboriginal Art Gallery, which showcases and markets work of prominent, established and emerging Aboriginal artists of the Dunghutti region and mid-North Coast area.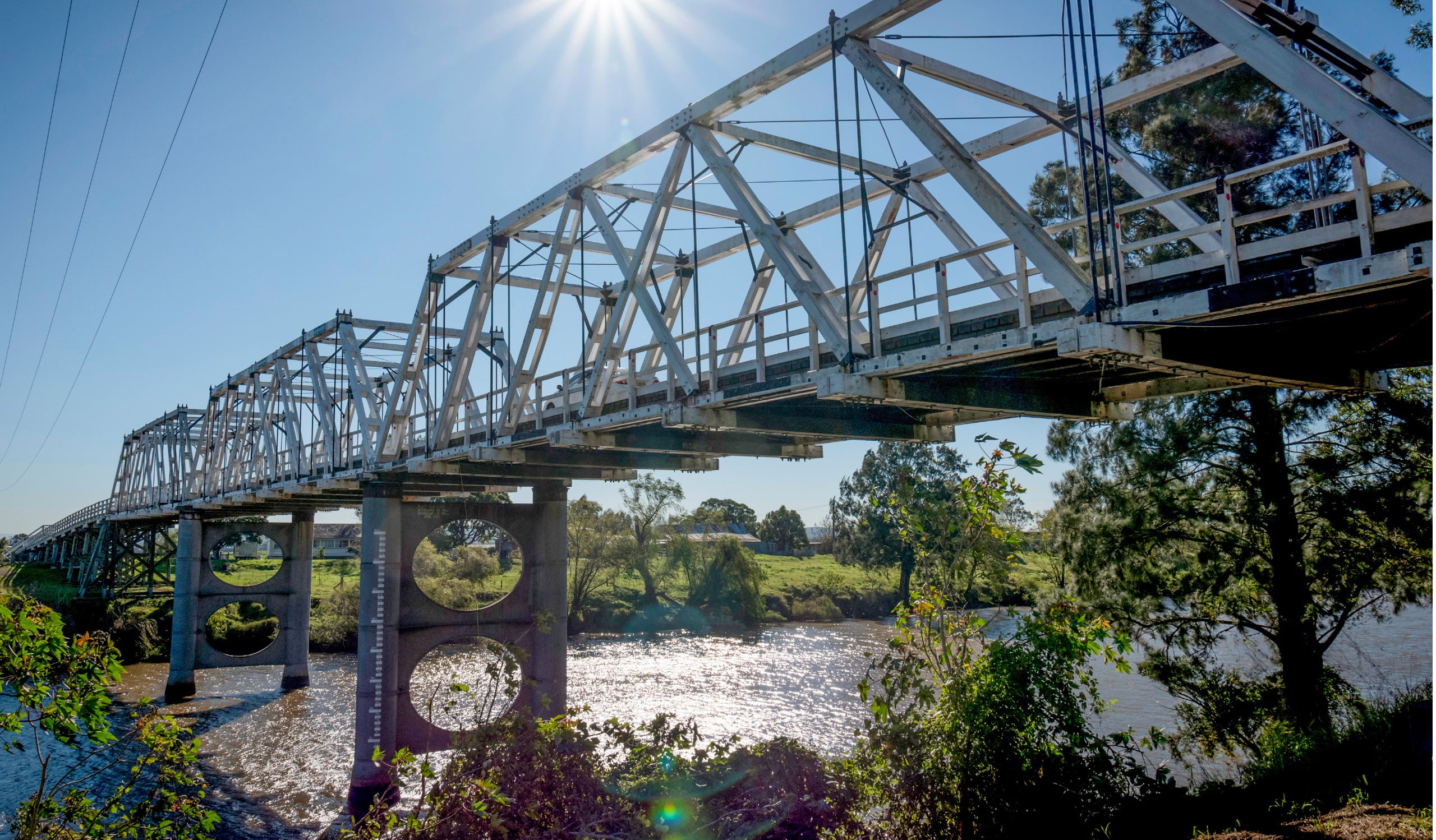 We will then visit the Slim Dusty Centre, an innovative museum dedicated to Australia's iconic legend Slim Dusty where you will experience a wealth of music history, Australian culture and art. You will also enjoy lunch at the Slim Dusty Centre.
Your Aurora Explorer coaches will return you to the Kempsey Railway Station where we will continue along the North Coast Railway Line to The Rail Motor Society, Paterson where we will be stabling for the night.
Dinner will be served on-board the train this evening.
Day 5 | Thursday: Paterson – Maitland – Sydney
Enjoy breakfast on-board the Aurora Australis at The Rail Motor Society, Paterson.
Today we have two options for you: Discover Maitland where you will spend time at the 1870 built Grossman House, restored by the National Trust in the 1960's and the Maitland Regional Art Gallery.
Or, discover Morpeth, an historic inland river port alongside the Hunter River. A visit to Morpeth is a real journey through time. Visit the narrow laneways, walk along sandstone footpaths and into heritage buildings where you'll discover unique shopping, artisan treasures and delightful treats.
At Maitland we will board the train for the last time, enjoying lunch as we travel back past Brisbane Water and the Hawkesbury River, concluding your railway journey at Central Station, Sydney at approximately 6:30pm.
You will have had a truly memorable Vintage Rail Journey.
Inclusions
Travel through the Mid North Coast and Northern Rivers regions of New South Wales discovering beautiful beaches, tranquil rivers, rainforest and mountains along the scenic and meandering North Coast Rail Line between Sydney and Casino, New South Wales.
Unpack only once and enjoy everything that slow rail touring provides.
Highlights include:
North Coast Rail Line;
Hastings River Dolphin Spotting Cruise;
Byron Bay Solar Train;
Food and shopping Byron Bay style;
Slim Dusty Museum, Kempsey;
Arakoon National Park;
Historic Maitland & Morpeth.
Terms

Travel Enquiry